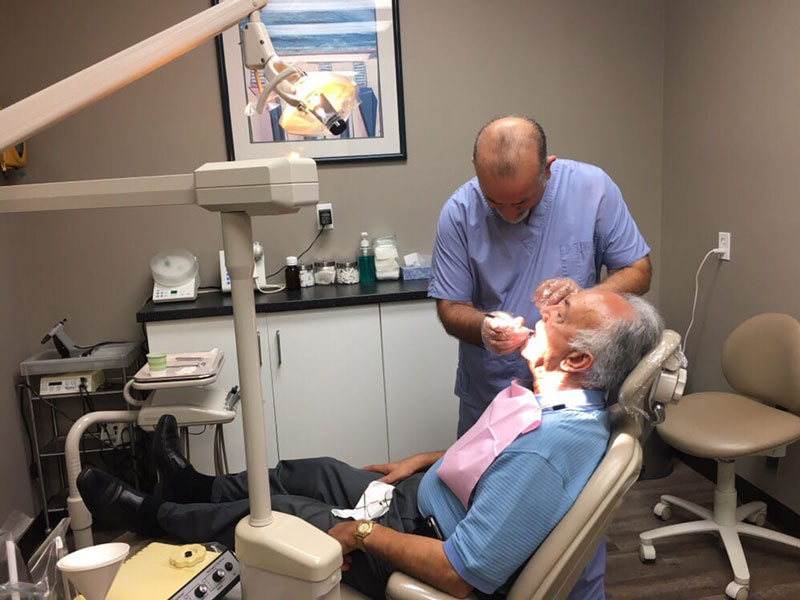 Implants are the most durable and functional method of tooth replacement. Implants are the permanent solution for tooth loss. Because some patients need to replace the roots of their teeth, dental implants are the optimal solution.
Enhance Your Smile with
Dental Implants from Irvine Dentist – Dr. Sohrab Rahbar
A dental implant may be recommended by your Irvine implant dentist in order to replace missing teeth. Dental implants offer a durable and functional replacement for those who are missing teeth. Another benefit of dental implants is how real they look!
We only use leading brands, such as Nobel Biocare, as they are driving the development of new dental implant standards and protocols.
Besides featuring 'The Original' dental implant system, the Brånemark® System, which has provided us and our customers with outstanding knowledge and understanding, Nobel Biocare's implant solution offering also includes the brands NobelPerfect™, NobelDirect™ and Replace® Select to cater to all levels of experience and all indications.
A dental implant is a prosthetic replacement for teeth. On a very basic level, real teeth are comprised of both a crown and its roots. The crown is the part visible to our eyes when we smile or open our mouths. Underneath the crown is where a tooth's roots are housed. A dental implant aims at replacing the root section of a tooth with a titanium post, which a dental crown may be placed onto for a wholesome, natural look.
Doctor2th has MANY Yelp reviews
Read Saba S.'s review of Doctor2th Dental Office on Yelp
Read Sam F.'s review of Doctor2th Dental Office on Yelp
Read Shawyan R.'s review of Doctor2th Dental Office on Yelp
Read more reviews of Doctor2th on Yelp!
Benefits of a Dental Implant
Dental implants allow patients to smile with confidence while providing a variety of benefits including:
Improved bite - By restoring your bite with a dental implant, you will be able to comfortably chew the foods you love.
Aesthetically pleasing - By imitating real teeth, a dental implant is able to provide the natural look and feel of teeth.
Boost to self-esteem - By restoring your smile, your self-esteem will begin to climb.
Lasts for many years - Dental implants were specifically designed to last many years. A dental implant receives its durability from the way it forms to the titanium post, creating a strong bond that imitates the strength of natural teeth.
About The Procedure
Irvine Dentist Dr. Sohrab Rahbar takes x-rays and measure the jawbone in your mouth to ensure that your procedure is seamless. Dental implants ensure that the structural connection of your teeth is strong and stable.
The procedure is generally a multi-step process that begins with placement of the titanium implant that may take up to 12 weeks to heal as the jawbone sets in place around the post, helping to form a durable bond. Dr. Rahbar may prescribe antibiotics during this time to prevent the possibility of infection.
After your mouth has healed and your jawbone has set in place, your dentist will attach an abutment to the post, which the impression of your tooth will be placed onto. After the impression of your teeth has been made, it is attached to the tooth effectively completing the procedure. This impression is known as a dental crown. If Dr. Rahbar does not complete the dental crown in the same day, then you will be given a temporary crown in order to conveniently perform your daily activities without hassle.
You will be given a local anesthetic for the duration of the procedure to ensure that you remain pain free. When the anesthesia wears off, your dentist will recommend over-the-counter pain medication to treat any pain experienced.
Caring For Dental Implants
Dental implants were designed to mimic real teeth, and should also be treated as such. This means that you should always remind yourself to brush at least twice a day, on top of flossing at least once a day (but preferably once after every meal consumed). There is nothing special about it: dental floss and a toothbrush.
For more information about Dental Implants or other Cosmetic Dentistry services, please call our office at (949) 551-9999 or Contact Us online. We will be happy to assist you with any questions or inquiries!